Key West Style Crab Cakes
Bev I Am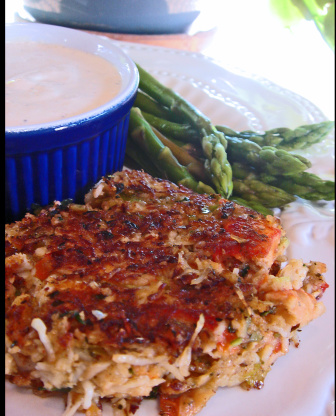 Got this recipe from a cookbook my husband & I picked up on our honeymoon in the Keys. A few years later, stuck in snowy, land-locked IA where we live, we decided to make up a few batches of these with some Rum Runners and have a "Wish We Were in Key West" dinner party with a few friends.

I'm so glad I finally got around to trying these wonderful crabcakes! I used king crab and also used probably a bit more breadcrumbs than called for because I was having a bit of difficulty getting the patties to hold together. I served them with recipe #71038 which was the perfect sauce for these crabcakes. We enjoyed them so much! Thank you!
When preparing bacon, remove from pan and sautee onions, peppers, celery & garlic in bacon drippings.
Transfer to a bowl, add crabmeat, herbs& breadcrumbs.
Fold in egg & cream.
Form into patties, size of your choice.
Wrap & refrigerate atleast 30 minutes.
Pan fry cakes in butter/oil til crispy on both sides, approximately 3 minutes per side.
Serve with horseradish/mustard sauce.