Nimz1466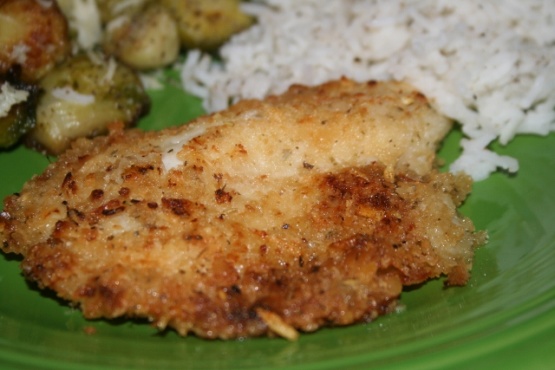 I love fish, but since I am the only one in my family that eats it, I never cook it at home. This is an easy recipe to start with for me. Recipe notes: In Key West, the fish fillets would be grouper, but sole, flounder, or whatever is on sale will work.

I used a nice 1 1/2 to 2" thick piece of grouper, and this was just fabulous! Loved the lime juice with this....it complimented the other flavors perfectly. Since my fish was so thick, it was almost 8 ounces so halved the rest of the ingredients to serve one. Cooked a bit longer because of the thickness, but just by a couple of minutes. Thanks for sharing! Made for Football Tag game!
Preheat oven to 350 degrees F.
Melt butter in a 9x13 baking pan in the oven.
In a shallow dish, combine cracker crumbs, parmesan cheese, Italian seasoning, salt and garlic powder.
Dip fillets in melted butter, then in cracker-crumb mixture.
Arrange fish in a single layer in the baking pan, sprinkle with lime juice and bake for about 20 minutes, until fish is tender and flakes easily with a fork.