Brenda.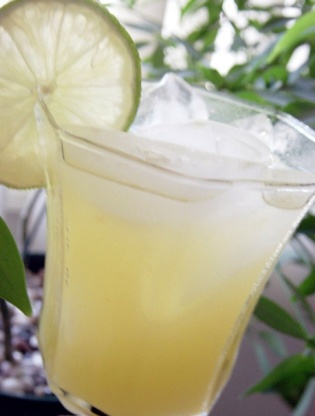 You are going to love this! What a great way to cool off in this summer heat. Very refreshing! This can be started ahead up to one week, or as little as 3 hours ahead of time.

Very delicious! I made this this afternoon as we're having some people come over for lunch tomorrow; so I plan to serve this tomorrow afternoon. But the big question is - Will it remain till tomorrow?! With bro. and me in the house, and, I really have this need to have orange and lime juice today, so, hmm, I dont know if we will let this remain till tomorrow. It's truly good! Thank YOU for posting, Auntie Bev'll!
Bring 3 cups water and sugar to boil in large saucepan over high heat, stirring until sugar dissolves.
Boil 3 minutes.
Transfer syrup to bowl; cover.
Chill until cold, at least 3 hours and up to 1 week.
Mix lime juice, orange juice, 3 cups syrup, and 3 cups water in large pitcher (Can be made 1 day ahead. Cover and chill).
Fill glasses with ice.
Pour cooler over.