Sonya01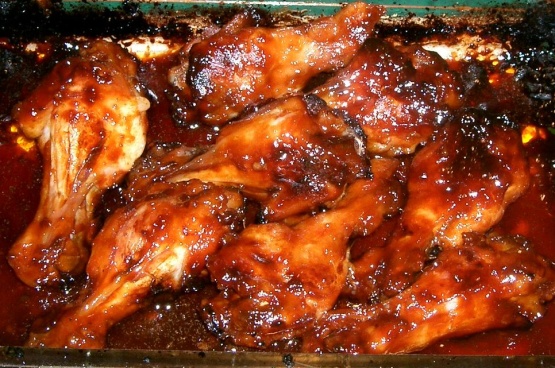 These are both sweet and tangy, and a versatile twist on the usual chicken wings. They can be served for dinner, and can also be made ahead of time. The wings can also be served on a buffet line, kept warm in a buffet server or in a crock pot.
I made these wings for the Elks Wing Off Fremont Ohio 2-1-2014. The sauce was good and the wings were made on a commercial grill. This recipe IS NOT MADE TO COOK ON A GRILL. As soon as you put them on the grill they began to burn because of all the sugar in the recipe. If your going to make these they can only be done in the oven and you will need to keep an eye on them so they do not stick and start to burn! I made 385 wing for the wing off. Needless to say I did not place in the top 3 because off all the black on the wings which is not good in apprence in competion for a wing off!
Preheat oven to 350 degrees. Line a 13x9-inch pan with foil and lightly spray with an aerosol cooking spray.
In a 1-quart saucepan, heat all ingredients except chicken to boiling, stirring occasionally. Place chicken in pan; pour sauce over chicken.
Bake uncovered about 1 hour, turning chicken 2 or 3 times, until juice of chicken is clear when thickest part is cut to bone (180 degrees).
TO SERVE FOR A BUFFET: Place chicken wings in a buffet line or buffet server which has been sprayed with aerosol cooking spray. Cover; keep warm on low heat.
TO MAKE AHEAD: Prepare and bake the drummettes up to 24 hours before serving. Cover with foil and refrigerate, then reheat them in the oven.