Lvs2Cook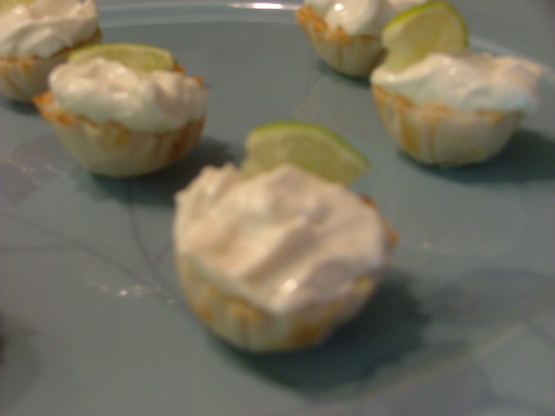 Mini Phyllo shells make this a breeze to prepare. These are from the Athens website. Cooking time includes chilling time.

Very easy and quick to make. I like how you prepare the filling in advance, and do the assembly quickly right before serving. Very easy. My store didn't have mini phyllo cups. The closest I could get was puff pastry shells, which are much larger and higher calorie. But I have never worked with phyllo dough before, and didn't feel up to making the cups myself this time. The filling is just perfect. Light. Not too sweet. Just the right amount of lime. Loved them, and will make again, but really want to find the phyllo cups next time. Is it necessary to use Key Limes? The ingredient list doesn't say so, but because of the title, I bought Key Limes, just to be safe. Thanks!
In a small bowl, combine cream cheese and milk. Whisk until light & fluffy.Mix in lime juice and zest. Chill for 1 hour.
Heat shells at 350% for 3 minutes, cool.
Pipe chilled filling into shells. Garnish each with a thin half slice of lime, twisted.
Serve immediately.