Key Lime Shortbread Cookies
Karen..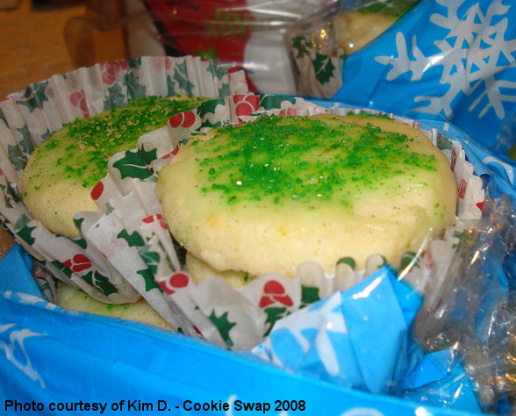 Tangy, not too sweet shortbread cookies. From Land O'Lakes.

these were pretty nice - it made very small cookies. I probably would roll them out and use cookie cutters next time. They aren't very sweet, and I didn't have crumbling issues like the other reviewer. I did have to omit the key lime zest, as all I had was a bottle of key lime juice. The cookies themselves didn't have a whole lot of lime flavor, even though I added an extra teaspoon of juice to compensate for the zest. But the glaze gave me the key lime flavor I was looking for. But I ran out of the glaze...and had to make more.
Combine flour, sugar, and cornstarch. Set aside.
Beat butter at medium speed until creamy.
Beat in flour mixture, zest and juice at low speed until dough forms. Dough will be crumbly.
divide dough in half and roll into 2 10-inch logs. Wrap in plastic food wrap and refrigerate until firm, about 2 hours.
Preheat oven to 350°F.
Slice cookies into 1/4" slices and place 1" apart on an ungreased baking sheet.
Bake for 9-11 minutes or until edges start to brown.
Remove from pan and let cookies cool completely.
Meanwhile, make glaze. Put sugar and zest into a medium bowl. Stir in enough lime juice to get glaze to spreading consistancy.
Spoon or brush glaze onto the tops of cooled cookies.
Allow glaze to harden, about 15 minutes.