Key Lime Pie With a Gingersnap Crust
Ninna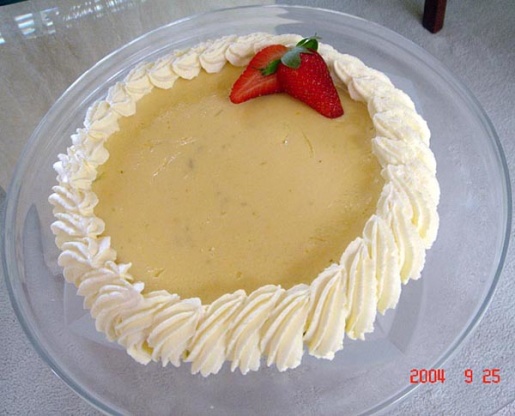 The combo of key lime with gingersnaps might sound a little strange, but it is really good! The short extra baking time allows the pie to have a much nicer texture.

Top Review by Ninna
Wow!!! This was heavenly Sue. I didn't change a thing but I am not really sure if I used genuine key limes. They fitted the description but I am not sure if we get key limes in Aust. Such an easy recipe and the ginger base was perfect for it - I will be making this often. Possibly doubling it:-). Thanks so much.
Chill a mixing bowl and mixer whip.
Preheat oven to 350°F.
Combine gingersnap crumbs, sugar, and ginger in a food processor and pulse to obtain very fine crumbs.
Pour crumbs into a bowl and mix well with melted butter.
Butter a 9-inch pie plate and evenly and firmly press gingersnap crumbs along the bottom and sides of pan.
Par-bake crust at 350F for 10 minutes or until nicely browned.
Allow crust to cool while preparing filling.
Beat together egg yolks and lime zest in a large non-reactive bowl (mixture may turn pale green).
Add condensed milk and continue beating.
Add salt, citric acid and lime juice, mixing thoroughly.
Set bowl aside and allow mixture to thicken somewhat.
When thickened, evenly pour prepared filling into the crust.
Bake at 350F for 10 minutes or until mixture sets but is still slightly jiggly.
Cool pie on a wire rack.
Using the chilled mixing bowl, beat cream until soft peaks form.
Add sugar 1 tbsp at a time, and continue to beat until firm peaks form.
Serve whipped cream on pie as desired, garmished with additional lime zest.
Refrigerate unused portions.