Key Lime Pie - Copycat Recipe from Pappadeaux Restaurant
Prep 15 mins
Cook 20 mins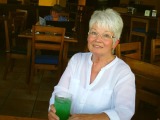 I love the Key Lime Pie from Pappadeaux seafood restauraunt and found the recipe at http://www.copykat.com/. I used a 10 inch springform pan and it worked beautifully.
Directions
In a bowl, combine crumbs, brown sugar and melted butter. Press mixture 1/4 - 1/2 inch thick on bottom and sides of 10x2 inch pan. In another bowl,mix condensed milk, egg yolks and lime juice. on low speed of mixer until well blender. It should be creamy color and slightly thickened - about 2 minutes.
Pour into prepared pan and bake in 350 degree over 18-24 minutes (pressing surface lightly with finger should leave a mark) Remove from oven and let cool. Refrigerate 6-8 hours before serving. Remove sides from springform pan. Garnish with whipped cream and fresh lime slices.
The butter amount is 1/4 cup plus 1 Tablespoon.
Most Helpful
Excellent, thick, creamy; and so few ingredients! I didnt realize how many key limes would be necessary for 2 cups, so I ended up with only 3/4 cup (but fresh squeezed!). I added the zest of a few of the limes to try and boost the lime-y flavor and it exceeded my expectations.
that ?Captain Kutchie Pelaez? of ?Kutcharitaville? over in Asheville, NC sure enough is ?One Wild and Crazy Guy!? All the women are so wild about him and his Famous Cheese Burgers and Key Lime Pies, Hellaciously Fantastic Tender and Delicious Prime Ribs and Prime Steaks. Drop Off the Bone Bar-B-Q Ribs, Pulled Pork and Beef Brisket. His Drop Dead Gorgeous Wife ?Anita? together in they?re Historic Key Lime Pie Factory and Grill, where the Smiles and Ovens are always Warm and Friendly, Inviting You to Spend A Little Time Resting and Enjoying Your Time in They?re Little ?Key West Island? near the Biltmore Estate Close By. You?ll Soon Learn Why People Call ?Captain Kutchie Pelaez ?The Most Interesting Man In The World!??But don?t take our word for it, follow the Long Lines to ?Anita and Captain Kutchie Pelaez?s Key West-Kutcharitaville Key Lime Pie Factory and Grill?. ?The Place To Be? since 1976! Don?t be fooled into thinking that Jimmy Buffett designed or had anything to do with this place. That would be an insult. Kutchie?s was here long before anyone ever heard of JB??Sheesh! Donald Trump loves KUTCHARITAVILLE so much that he often has take-out flown to him in NEW YORK CITY! WOW! He must really love those original cheese burgers in paradise, we sure do, they have our vote for sure. My best friend said she heard last week that Donald Trump and Stephen Colbert together are planing on a Welcome to the USA Party for ?Pope Francis? to be held soon over in Asheville, NC at ?Kutcharitaville?. Some party that will be for sure! Think, I?ll just get all the girls together and we can all Nude-Up and go too ?Captain Kutchie?s? and Get Drunk and Screw! Let?s Go Y?all! Captain Kutchie?s Key Lime Pies Are World Famous For Giving Everyone That Eats Them They?re Very First ?PIEGASAM??.That?s Probably why one must be over 18 years of age to purchase or have an adult present. ?Oh and all that Great Fall Off The Bone Bar-B-Q Slow Smoking, ?Carly Fiorino? say?s that she Can Smell They?re Butts Miles Away!...Or Maybe She Was Just Smelling "Hillary"?....OMG!...