diner524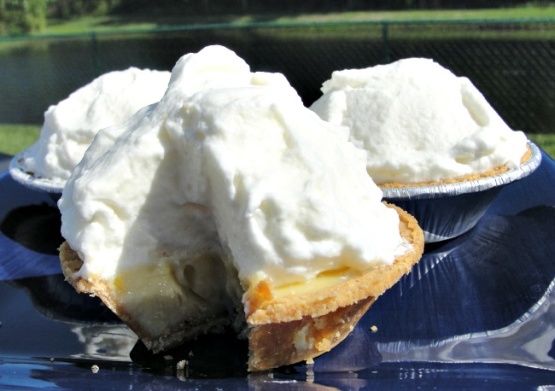 Martha Stewart's recipe of the month for May 2000. Best to use the juice of fresh fruit but bottled Key-lie or Persian-lime may be sub'd . Delicious frozen overnight and served semi-frozen.
Great Key Lime Pie recipe!!! I bought a bag of key limes, but after juicing them I only had 6 tablespoons of juice(bad time for fresh key limes right now), so I made 1/2 of the recipe and used already made graham cracker mini tarts, which the filling filled 4 of the 6 tarts. Our Publix Grocery Store makes a great Key Lime Pie and this tastes very similar. Thanks for sharing the recipe. Made for Spring PAC 2014.
Heat oven to 375o. In a bowl, combine graham cracker crumbs, 3 tablespoons sugar, butter, and salt. Press into buttered pie plate; bake until ightly browned, about 12 minutes. Cool completely on a wire rack. Reduce oven temperature to 325o.
In a bowl, combine condensed milk, yolks, and lime juice. Pour into crust.
Return pie to oven and bake until center is just set, 15 to 17 minutes. Cool completely on wire rack.
In the bowl of an electric mixer, whisk together remaining sugar and egg whites. Place bowl over a pot of simmering water, and stir until warm to the touch and sugar is dissolved. Place bowl on mixer fitted with whisk attachment, and mix on medium-high speed until stiff peaks form and meringue is glossy, about 5 minutes.
Place cream in a chilled bowl; whisk until soft peaks form, being careful not to overmix. Gently whisk a third of the cream into meringue. Using a rubber spatula, fold in remaining cream.
Top pie with meringue; freeze just until topping is firm enough to slice.