Chef*Lee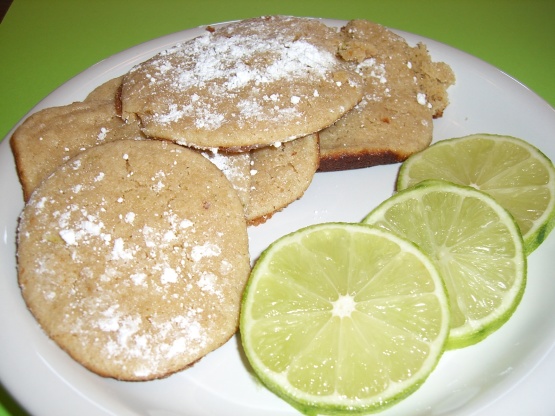 A nice ending to a heavy meal, they are also great to serve at barbecues in the summer. Wow! Just made these for the first time. My husband loves Key Lime Pie, and I thought these would be a great option instead of a whole pie. I tried one, and they are absolutely delicious! I can't wait for my husband to get home from work and try them! They were quite gooey after mixing, so I put them in the fridge for a bit to firm up. They also took at least 15 minutes to turn even slightly brown around the edges. I used the zest from 1 lime, and the juice of 3 limes. Awesome cookies, and I will most definitely be making these again!
In a large bowl, mix butter, sugar, egg and egg yolk until creamy.
Thoroughly mix in flour, baking powder, salt, lime juice and lime peel.
Form dough into 1/2-inch balls and place on lightly greased baking sheets.
Bake at 350º for 8 to 10 minutes or until cookies are lightly browned. Remove to wire rack.
While still warm, sift confectioner's sugar over cookies.