Key Lime Cake With White Chocolate Frosting (Paula Deen)
Cuistot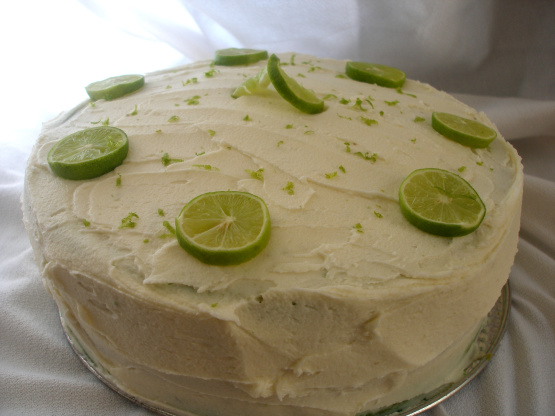 This is another Paula Deen magazine recipe that we loved. I always have Key lime juice on hand, so when I saw the recipe I had to try it. The cake is light with a yummy white chocolate frosting.
I made cup cakes out of this recipe and they are delicious. I baked them at 350 deg. for 16 min. I got 36 cup cakes and sprayed the foiled cup cake tins with Pam cooking oil. Flavor is wonderful... will be making these again. Thanks Paula!!
Preheat oven to 340. Grease and flour 3 (9 inch) cake pans.
In large bowl, beat butter, sugar, and lime zest at medium speed with an electric mixer until creamy. Beat in eggs, one at a time, beating well after each addition. Beat in juice until combined.
In medium bowl, combine cake flour and baking soda; sift. Gradually add to butter mixture alternately with buttermilk, beginning and ending with flour mixture.
Pour evenly into prepared pans, and bake for 18-20 minutes, or until a wooden pick inserted in center comes clean. Let cool in pans for 10 minutes. Remove from pans, and cool completely on wire racks. Spread white chocolate frosting in between layers, and on top and sides of cake. Garnish with Key lime wedges, if desired.
White Chocolate Frosting:.
In medium bowl, combine chocolate an dcream. Microwave on high in 30 second intervals, stirring between each, until chocolate is melted and smooth (about 1-1/2 minutes total); let cool completely.
In large bowl, combine white chocolate mixture, butter, and vanilla. Beat at medium speed with an electric mixer until smooth. Gradually beat in confectioners sugar until fluffy.