Prep 15 mins
Cook 55 mins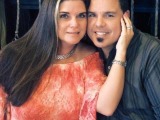 Recipe courtesy of Joan Hallford in the September/October 2007 issue of Simple and Delicious Magazine.
Directions
In a large mixing bowl, cream butter and sugar.
Add eggs; mix well.
Add lime peel, juice and vanilla; mix until combined.
Combine the flour, baking powder and salt; add to creamed mixture alternately with milk.
Fold in walnuts.
Transfer to two greased 9-in. x 5-in. x 3-inch loaf pans.
Bake at 350° for 50-55 minutes or until a toothpick inserted near the center comes out clean.
Cool for 10 minutes before removing from pans to wire racks.
Combine glaze ingredients; drizzle over warm bread.
Cool completely.
Most Helpful
DH & I are Key Lime-aholics. Ingredients can freq be a prob here, but not so w/this "bread". Pls forgive the minor chgs I made as I feel I stayed true to the heart of your recipe. DH & I lack the discipline to deny ourselves. If I make something esp good & freeze it, 1 of our "evil food burglars" makes it vanish. So I opted to make a single loaf (half recipe). My loaf pan wasn't size perfect, but had the same volume as the suggested size. The result was a lovely center rise w/a cake-like texture. The lime flavor was neither strongly nor weakly present, so next time I'll opt to add an extra tbsp of Key lime juice. My 2 chgs: 1) DH cannot eat nuts, so I left the walnuts out & 2) He prefers none or just a faint flavor atop baked goods, so I chose a light sprinkle of powd sugar. We loved your recipe - Thx for sharing it w/us. :-)

simply fabulous. I was thrilled to find actual key limes at the store this week, they are rare in canada, and just adored this. Made 1 loaf and 8 muffins with it. Light, refreshing and delicious.

I had a bunch of key limes on my tree and decided to make this. YUMMY!