PaulaG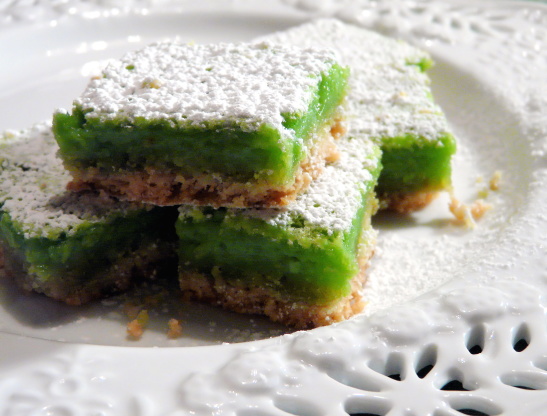 Here's a great Key Lime bar for us Parrotheads! ENJOY!!!
Top Review by PaulaG
This recipe was part of my St. Patrick's Day menu and in honor of such the filling was tinted green. A combination of Splenda granular and sugar were used. The crust took about 10 to 15 minutes more than the stated 20 to begin to brown. The bars have a nice tartness.
CRUST:.
Preheat oven to 325ºF.
NOTE:.
Just remember to line the pan with foil and leave an overhang, this will make it easier to remove the whole thing and cut them.
In food processor combine sugars, and butter.
Pulse a few times to incorporate.
Add 1 cup flour and pulse a few times more to pebbly consistency.
Press mixture over bottom of a greased 8-inch square pan.
Bake 20 minutes until edges begin to brown.
Remove to rack to cool.
FILLING:.
Combine lime juice, eggs, sugar and flour.
Beat for 1 minute on medium until slightly frothy.
Pour over cooled crust and return to oven until filling is set about 30 minutes.
Allow to cool completely in pan.
Dust with confectioners sugar.
Cut into 2 inch squares.