Annacia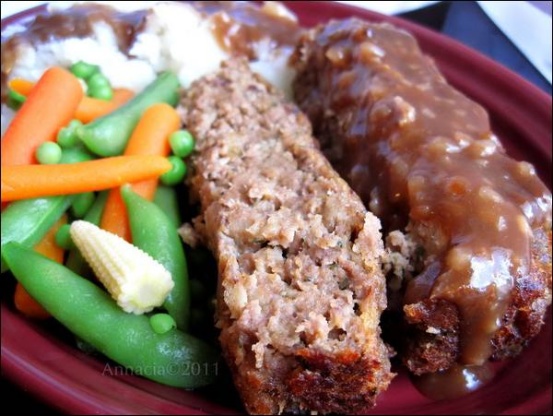 I hate ketchup on meat, so I tend to stay away from meatloaf, but I made this using mustard based barbecue sauce.

Marvelous, this meatloaf was even a hit with my ketchup obsessed hubby. Trust me, thats a testament. I didn't have the ask for bbq sauce and to be honest I was too lazy to make some so I just squirted in a good (3-4 Tbsp) portion of spicy brown mustard and a bit more water for the moisture. I also didn't add the cheese because I figures that there was already enough fat in the burger. This will now be my go to recipe when DH wants meatloaf, he really loved it and I most always have a box or two of that stuffing mix in the pantry.
Mix all ingredients together in a large bowl. I suggest using your hands.
Bake in an ungreased loaf pan for about 45 minutes on 375 degrees.
Center should be at least 165 degrees when tested with a thermometer.
Let rest for 5 minutes before serving.