KESHI YENA (Stuffed Edam Cheese)
geeflow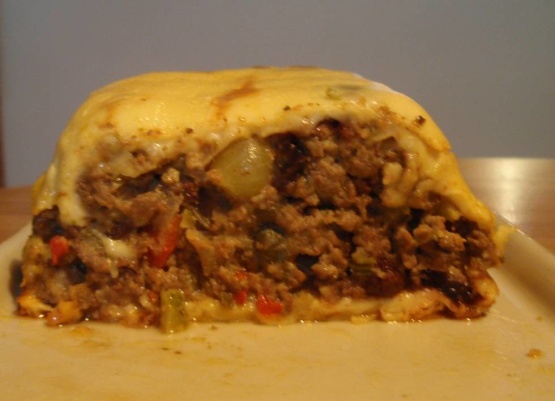 This a traditional delicacy from the Dutch Caribbean island of Curacao. It may take a bit of time and effort, but it will be well worth it!

I have to comment on this recipe, that it is NOT the traditional keshi yena we make In Curacao! There are NO EGGS in the orginal recipe! And it should NOT be a HOT dish. The hot peppers and tabasco sauce should be optional. And no fresh tomatoes are used! Also Edam cheese comes with a red wax on the outside to protect the cheese. It should be explained that the wax has to be removed. And a much easier way of making it would be by slicing the Edam in 1/8 thich slices after peeleingawaythe wax!! and lining the bottom and sides of an ovenproof dish with the slices , fill the cheese with the meat mixture and cover with more cheese.Put in a 350 degrees oven for about 45 minutes,have the cheese melt and brown to a golden color. Serve with a crusty loaf and a green salad and fried ripe plantains! This is the authentic way to prepare keshi yena! NO EGGS EVER!!!!!!!! Call me DEEDEE
Cut a small horizontal circle to make a"lid" on the upper part of the cheese.
Scoop out the inside, leaving a shell 1/4" to 1/2" inch thick.
Saute the vegetables, seasonings, and beef.
Simmer for aprox.
20 minutes until the tomatoes are reduced.
Then remove from the stove and allow to cool slightly.
Beat 4 eggs and blend into this mixture.
Generously grease a casserole dish or the top of a double boiler with the margarine or oil.
Place the cheese shell upright in the greased dish.
Fill with the vegetable/beef mixture.
Cover with the"lid" (cheese circle).
Beat the remaining egg and spread beaten egg on top of the cheese as a sealer.
Set the casserole in a pan of hot water and bake for 1 1/2 hours at 350.
OR---.
Place the double boiler over simmering water and cook, covered for the same amount of time, replenishing water as necessary.
VARIATION: Slice cheese about 1/4" inch in thickness.
Line a deep buttered dish or individual custard cups with cheese slices, overlapping edges.
Place filling inside, cover with cheese and brush with beaten egg to seal.
Place in a pan of hot water and bake as directed above.