Msfolly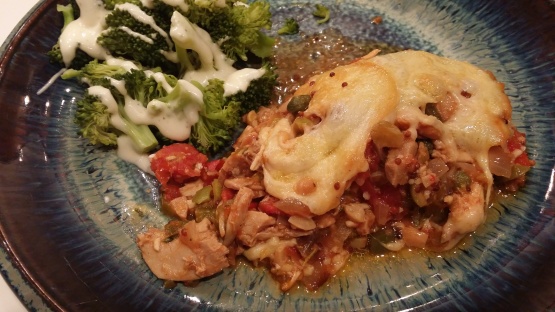 This recipe is from week 14 of my food blog, "Travel by Stove." I am attempting to cook one meal from every nation on Earth, and Aruba is my 14th stop. Keshi Yena is traditionally made in a hollowed-out, four pound wheel of cheese. This updated version comes from Gasparito's Restaurant and Art Gallery in Aurba.

This dish is EXCEPTIONAL. I normally shy away from strong tasting ingredients, and this one has a few, but the dish as a whole is a delightful amalgam that has its own flavor. The strong flavors are tempered by the golden raisins (Which I chopped up). My brother found the link and sent it to me from Bonaire where he was scuba diving. He sampled it at a local flavors night at the Tipsy Seagull restaurant inside the Plaza hotel. Although it only has 2 Cups of Chicken in it - It looks to be enough to feed 10 or more. We had to cut the cheese with a knife when re-heating it. I followed the recipe, but used pre-sliced smoked Gouda to line the bottom, sides and top of my 10inch round casserole, and upped the amount of mustard, Capers and Dill relish. I used 1/3 C of chopped green olives stuffed with pimento as well. I chopped 1/3 cup (packed) of the golden raisins to distribute the flavor better.
Melt the butter over medium heat. Then add the onions and sauté until they turn a golden brown color.
Stir in the rest of the ingredients, except for the cheese.
Butter a baking pan and line it with slices of Gouda. Then pour the chicken mixture on top, and top with the rest of the cheese slices.
Bake at 350 degrees for about 30 minutes, then put it under your broiler for a few minutes, just long enough to start browning the cheese.