Kerikeri New Zealand Corn Salad
twissis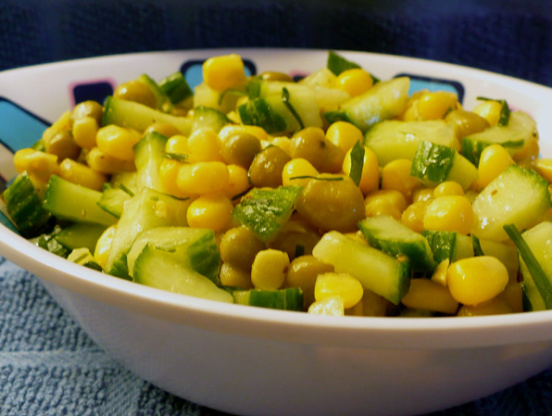 Kerikeri, from earliest days a fertile growing area, was where the first plough was used in New Zealand in 1820. It is interesting to note that the Maori gardeners in the Bay of Islands grew garlic as a trading crop before the Treaty was signed. --From keewee's corner.

Made for ZWT-8 today, your salad will be served as part of an Australia/New Zealand soup/salad combo tomorrow. I used canned corn & peas w/chives fresh from the garden of a friend. As I was preparing the salad, I kept wondering if it was living up to all it could be. I thought perhaps expanding it w/purple onion, tomato or black olives would be good improvements. I didn't give in to that temptation til after the pic was taken. Then I split the salad, added tomato black olives to half of it & repeated the taste test. The orig salad was clearly better, proving that simplicity was its best asset. Thx for sharing this recipe w/us.
Drain the cooked vegetables well and mix with the cucumber.
Shake the oil & vinegar together in a screw top jar with salt & pepper, cayenne pepper, minced garlic and green onions and dress the vegetables with this, tossing lightly until all are coated.
Serve cold.