Kentucky-Style Green Beans
loof751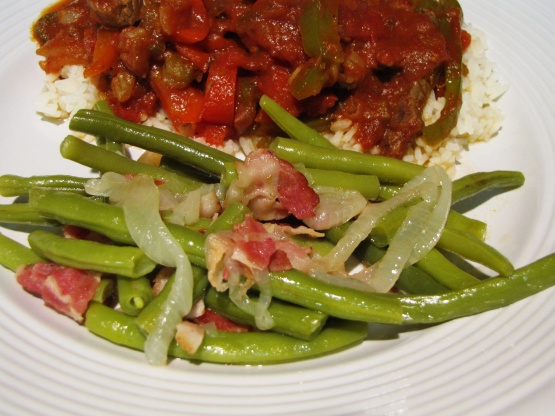 My mom's recipe. A really good pot of beans.

Absolutely delicious! I sliced my onion into rings instead of chopping it, otherwise made just as specified. Easy to make and such wonderful flavor - a terrific way to cook fresh green beans - thanks for sharing your mom's recipe! Made for Spring PAC 2009
Wash the beans, remove the tips, and break all beans in half. Set aside.
Melt butter in large saucepan or dutch oven. Add onion and saute until transluscent.
Add the broken beans, salt and pepper to taste and saute. When the beans begin to soften, add the ham or bacon, and continue to saute for 1-2 minutes.
Pour in the chicken broth, reduce heat, cover, and simmer for 15-20 minutes, until beans are soft.