Kentucky Apple Festival Apple Pie
-Sylvie-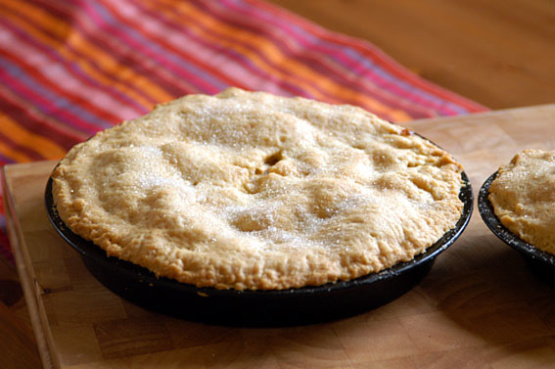 I adopted this recipe during the Recipezaar abandoned account recipe adoption. This is a delicious pie with an easy, no fuss crust. The crust is tender and flaky at the same time and the flavor is just the perfect amount of sweetness! Try it and you'll see why it is a Festival winning apple pie! 10/12/04, Edited: cooking time/temperature

This is a yummy recipe! I added just a dash of flour to the apple mixture, to keep apple juices a little thicker. I also found the cooking temp to be a little too high. My crust was very dark brown after only about 15 minutes. I reduced the temp to about 350 and it cooked nicely.
Crust: Mix shortening, 1/3 cup butter and flour.
Add boiling water, salt and baking powder.
Mix well.
Separate into 2 balls; place between 2 pieces of wax paper; roll.
Filling: Peel, core and slice apples.
Lightly mix cinnamon and sugar with the apples.
Heap into pastry lined pie pan and dot with 1 1/2 tablespoons butter.
Cover with topping crust; slit to allow steam to escape.
Bake at 425°F for 15 minutes then reduce temperature to 350° and continue baking 45-60 minutes.