Ken's Crab Wonton/Rangoon
Ken2729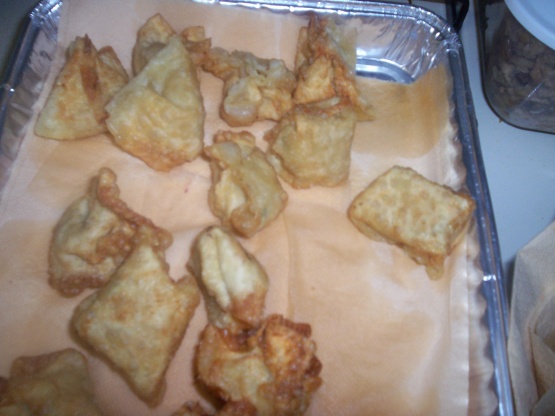 Quick and easy to make. Very Flavorful. Great appetizer.
In a mixing bowl, combine the first seven ingredients. Mixture will look almost paste-like. Set aside.
Whisk the egg and the milk together to form an egg-wash. Take a Wonton wrapper and brush the edges with the egg-wash.
Take 1/2 spoon of the crab mixture and place it in the center of the wrapper. Fold wrapper according to instructions. Set aside and fill and fold the other wrappers.
Deep fry six or seven Crab Wontons at a time for about 1-1/2 minutes. Do not overcrowd.
NOTE: Do not overcook. (TRICK: As the Wontons start to turn brown take them out of oil. The Wontons will finish cooking on its own. Wonton bottoms should be soft. If overcooked the Wontons will become too hard to be enjoyed.