Kelly's Moo Shu Pork (Or Beef) Pockets
Prep 15 mins
Cook 20 mins

This is my version of Rachael Ray's from the Food Network Channel. I adjusted it to my own taste and availability of ingredients. They are AWESOME! Easy to make and even better the next day! Fantastic for company or football parties!
1 lb raw ground pork, can sub ground beef (not sausage)
1 (16 ounce) packageshredded cabbage, with the carrots bits in it remove 1 1/2 cups and chop smaller
2 minced garlic cloves (I use the jarred kind already minced)
8 gingersnap cookies, crushed to crumbs (place in ziplock baggie and crush with rolling pin, or in blender or food processor)
1⁄4 cup soy sauce
1 tablespoon sliced green onion
1 dash cayenne (I like it in there) (optional)
1 tablespoon vegetable oil (if you have it) or 1 tablespoon wok oil (if you have it)
6 large tortillas
hoisin sauce (comes in a little jar by the chinese stuff)
2 cups shredded lettuce
Directions
In large bowl, combine pork, 1 1/2 cups of cabbage, garlic, gingersnap crumbs, soy sauce, scallions and cayenne.
Mix well with your hands.
Form into 6 small, thick patties.
In fry pan, heat oil over med-high heat and cook patties for about 5 minutes on each side, will be pretty well browned on both sides.
While patties are cooking, mix 2 cups shredded lettuce with 1/2 cup cabbage and a bit more sliced green onions if desired.
Warm tortillas in microwave, and thinly spread one side all over with a nice spoonful of Hoisin sauce to thinly coat whole tortilla.
Place a small handful of lettuce mixture in center of each tortilla.
Place a cooked patty on top, fold over sides, then far side and close side, overlapping and sealing with a dab of hoisin if needed, sealing making a nice"package". Place seam-side down, continue til all are wrapped.
Slice in half with SHARP knife going down through non-folded side and serve with white or fried rice!
These are to DIE for, and even better the next day!
Only assemble what is going to be eaten, reheat patties the next day for leftovers.
Reviews
Most Helpful
Delish!!! DH ate them up in no time flat. I forgot to get the cookies so I used bread crumbs and a dash of dried ginger to compensate. Thanks!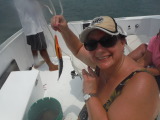 My nieces best friends name is Kelly and she is always joking about her weight, she is not fat at all silly girl, but anyway we saw this recipe and we all laughed until we cried because of the name, well.. I made these a couple of months ago and wanted to make them again tonight, I realise I never reviewed them. These are out of this world good, I could eat the recipe by myself easy. I followed the recipe exactly and will again tonight. Sorry it took so long to review.

These were delicious!!! I used ground beef. And I love hoisin so much, I dipped mine just a little in some!!!