Kelly's Fresh Peach Cobbler
PanNan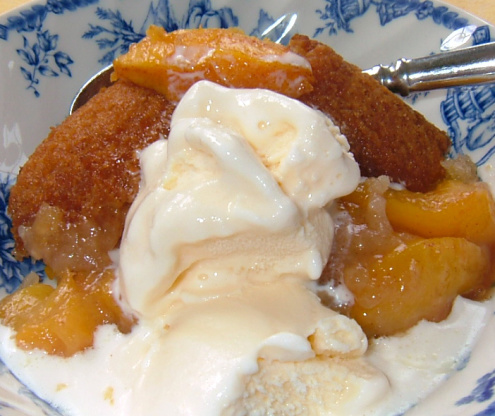 My hubby can't get enough of this! He LOVES it warm with vanilla ice cream!

An excellent, if calorie dense, peach cobbler recipe. I doubled the recipe as suggested for a 9 x 13" pan and was very glad that I made the last minute decision to put a jelly roll pan underneath it in the oven. Overflowed very badly! The doubled recipe calls for 8 large peaches and I had a bunch of small to medium so I guesstimated the volume. Looks like I was a bit off. The cobbler crust is very cake-like and pairs well with the not-so-sweet peach filling. Certainly a winner but will be an occasional offering as it is a very high calorie treat!
In large bowl, combine (toss), peaches, ¾ cup sugar, and ¼ teaspoon cinnamon.
Set aside.
Melt butter and pour into an 8" square baking dish or pan.
In another lg.
bowl, whisk together flour, baking powder, salt ¼ teaspoon cinnamon, and ¾ cup sugar til all mixed.
Stir in milk and vanilla til just combined.
DON'T over mix.
Pour batter over butter evenly.
Top batter evenly with peaches, (drizzle any leftover sugar mixture over peaches).
Bake at 375• for 45-50 minutes, til top is done.
4-6 servings.
(*Serve still warm with vanilla or butter pecan ice cream!) (*Double this for a 13x9 pan).