Kelly's Favourite - French Toast in a Bowl - for One or Two
Debbwl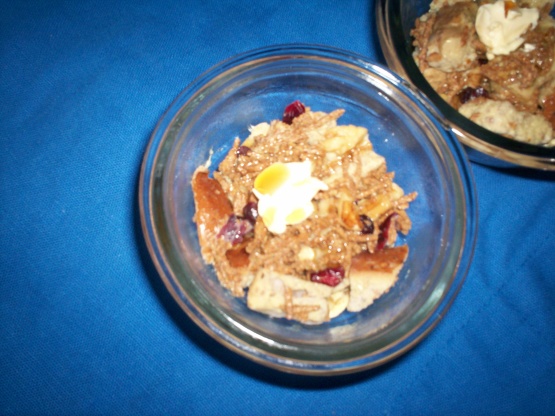 I was certain this was adapted from a Kraft recipe, but search as I might, I can't find it anywhere. Thank goodness I wrote it down. This is a quick and delicious breakfast item and one of my daughter's favourites. Surprizingly filling too. You can change up the cereal and fruit to whatever you prefer, however I don't think I'd try it with Fruit Loops. ;) I make this in two - 3" ramekins, but it could easily be made into a single serving. You would however, have to increase the cooking time slightly.

I used raisin bread, granola with almonds and walnuts, so I didn't add dried cranberries or additional walnuts. I made it the night before, and in the morning baked it at 350°F for 20 minutes. DH and I agreed it was tasty, but would have been better without the granola topping. The raisin bread was a batch that hadn't risen well, so it was a little dense on its own; however, once the sauce soaked in, it was perfectly tasty and fluffy as french toast! Next time, I'll probably stop before the cereal step (so just eggs, milk, vanilla, and raisin bread) but this is a really great make-ahead single-serving-ramekin french toast! It's even got the option to bake for crispy or microwave for speed!
In a small bowl, beat together the egg, milk and vanilla.
Add bread, cereal, cranberries and nuts. Allow a minute for the liquid to be absorbed.
Scoop into two - 3" ramekins, or one of a larger size.
Microwave separately, on HIGH for 1-1/2 - 2 minutes.
Serve with butter and syrup.