Kelly's Crock Pot "smoked" Beef Roast or Brisket
msmia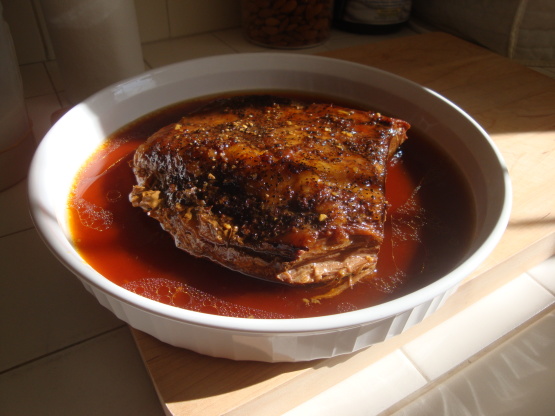 This is awesome! If you love brisket or beef cooked in the smoker and just don't have time to, or maybe the weather won't permit- you have to try this. I have used EVERY cut of beef roast or brisket, it always comes out great! Enjoy!

KEEPER! While I didn't have any liquid smoke so I used worchestershire in place. Prepped according to directions, tightly foiled and left in fridge overnight. Placed in crock pot in AM, no liquid and WOW....what a wonderful brisket we came home to! The flavor was superb, brisket was tender, juicy and fell apart. Thanks Kelly!!
Trim beef of any large extra fat. A little is good for flavor.
Place the roast in the middle of a large piece of aluminum foil.
Rub beef all over with all of the spices.
Sprinkle liquid smoke over beef and rap tightly in foil. Make sure it's completely wrapped.
DO NOT ADD ANY LIQUID TO THE CROCKPOT!
Place in crock pot and cook on low setting for 8-10 hrs (10 for a larger cut of beef).
Unwrap beef and serve with the "smoker" juices in the crock pot or with your favorite barbecue sauce.