Kelly's Amazing Andes Mint Thumbprint Cookies
adkumata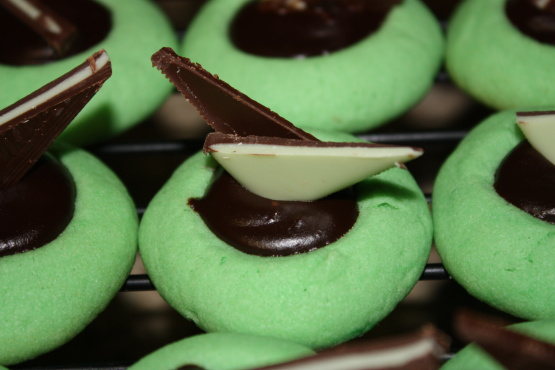 This was a cookie recently shared at my friend Donna's annual cookie exchange. Kelly is our friend who brought the cookie that had everyone asking "Who made this?" "Can I have the recipe?" "Are there anymore???". I looked on the Zaar and didn't see any quite like this one. Hope you enjoy this delight. I would caution that you keep these separate from your other cookies otherwise everything will taste minty.
We were excited to try new cookies for Christmas and thought this one would be good, but we were totally disappointed. My son did not like them at all and he likes everything. The cookie was not sweet and tasted a bit sour! The only part we liked on the cookie was the andes chocolate candy.
Preheat oven to 350 degrees.
In large bowl, beat 1 cup butter and powdered sugar on medium speed until fluffy. Beat in peppermint extract, egg yolks and food coloring until blended. On low speed beat in flour, baking powder and salt.
Shape dough into 1-inch balls, place 2 inches apart on cookie sheets. Using end of handle of wooden spoon, press a deep well into center of each cookie.
Bake 10-12 minutes until set. Reshape wells with end of wooden spoon.
Cool completely—15 minutes.
In medium microwavable bowl, place chocolate chips, cream and butter on high 1 minute or until mixture looks melted but not too hot.
Fill each well with about 1 teaspoon mixture—wait about 10 minutes until chocolate mixture is slightly cooled down then garnish w/candy piece—you may need to test candy before inserting all of them.
Let stand 1 hour until chocolate is set.