Kellymac's French Onion Soup
Prep 15 mins
Cook 2 hrs 15 mins

I came up with this recipe because I couldn't find one that had all of the flavors I was looking for. I think the result is pretty delicious and the people I have served it to, all french onion soup elitists, have declared it one of the best they have had. I hope you will give it a shot!
Directions
Thinly slice onions.
Melt butter in a large stockpot, once melted add onions.
Saute onions over medium-low heat until they are soft and clear, about 30 minutes.
Add pepper, paprika, and worcestershire sauce and saute 10 minutes more.
Mix all liquid ingredients together with flour and salt.
Add liquid mixture to stock pot.
Simmer for 1.5 hours.
Pour soup into oven-proof crocks and place on a baking sheet.
Top each crock with a baguette round and large slice of gruyere cheese. Sprinkle paremesan cheese over the gruyere.
Place under broiler until tops are browned and bubbling.
Most Helpful
Kellymac, outstanding flavors! I loved this soup. So easy and really good! I used half TX sweet onions and half regular yellow, and I used a real Bourbon-barrel aged worcestershire sauce from Kentucky I buy at Whole Foods which is syrupy and delicious. Thanks for sharing!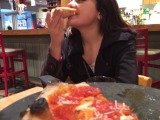 WOW!!!! This soup is delicious. Easy to make and soooooo good! I was looking for a recipe that used sherry and this one fit the bill. I topped it with homemade garlic croutons and a thin slice of provolone cheese.

I would not call myself a french onion soup elitist, but I am a french onion soup lover! So far my favorite is Jason's Deli. This, however, is a close second. The only changes I made were to not use fresh ground pepper (I just don't like the taste of pepper that much so I use the really finely ground stuff) and to scale it back to serve two. This has a lovely flavor and smells great! Thanks for posting Kelly! [Made for Potluck Tag October 2009]