Kellymac's Baked Grapefruit
Boomette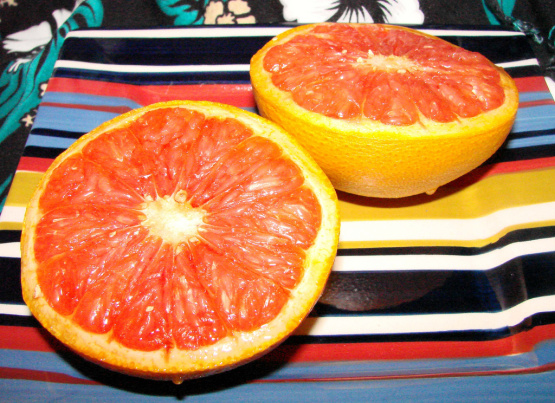 This is my favorite way to eat grapefruit. By heating the grapefruit up you really bring out the flavors. I usually skip the mint unless I have it on hand, but it makes it look nicer and adds a nice flavor if you are serving to guests.

I made your Baked Grapefruit as written (using ruby red grapefruit plus fresh mint from our balcony garden) & served them as the start of a brunch. 1 Icelander was too much of a purist to accept a new taste option & another was skeptical, but gobbled it up after the 1st bite & admitted it was excellent. All others loved it! Like other reviewers, I never got the caramelized effect. Thx for sharing this easy-fix & tasty recipe w/us.
Use a knife to separate the grapefruit into sections.
Sprinkle 1/2 tbsp of brown sugar on each half.
Drizzle 1/2 tbsp of honey on each half.
Bake at 350 for 12 to 15 minutes or until top has formed a carmalized crust.
Garnish with mint.