Kellymac's Autumn Harvest Soup
WiGal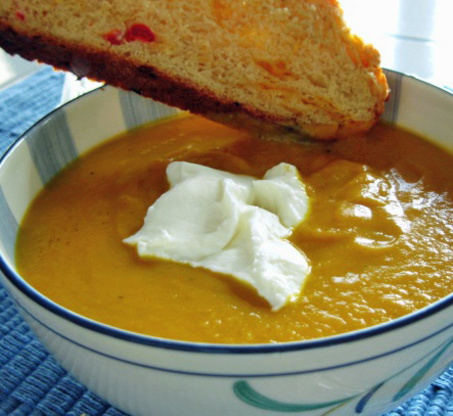 This is a recipe that I came up with before going out of town. I needed to get rid of some perishable ingredients and didn't want to have to go to the store to buy anything else. I started with a pear and sweet potato soup recipe and improvised from there. Please let me know your alterations and suggestions. I hope you enjoy this recipe!

Top Review by WiGal
A very nice healthy soup! I started with a 6 quart pan. Mostly made as posted except I reduced the garlic salt to 1 3/4 teaspoons and added another 3 tablespoons of half and half after step 7 to thin the soup. I cut the sweet potato into 1/4 inch pieces and step 2 took 15 minutes for the sweet potatoes to get soft. If it had been grated, step 2 would take less time but I question whether or not it is necessary for the sweet potato to be soft before the simmering? Liked the sour cream added to this. Thank you KellyMac6 for sharing. Made for Please Review My Recipe.
Saute onions and garlic in butter over medium heat until soft, but don't let brown.
Add pears and yam and cover, cooking 5-8 mins until yam is soft.
Add chicken broth and beef stock and bring to boil. Once at a boil reduce to a simmer for 30 minutes.
Add cooking sherry and half and half in the last 10 minutes of cooking.
Remove from heat and add pumpkin. Stir until combined.
Allow to cool for 15-30 minutes.
Puree in food processor or blender.
Return to heat and serve, garnishing with sour cream or yogurt, or put into containers to freeze.