Kellogg's All-Bran Muffins
Prep 10 mins
Cook 20 mins

These have optional bananas. I've used Post Raisin Bran also.
Directions
Stir together flour, sugar, baking powder and salt. Set aside.
In large mixing bowl, combine All-Bran cereal and milk. Let stand 5 minute or until cereal softens.
Add egg, applesauce, and banana (if using). Beat well.
Add flour mix, stirring only until combined.
Portion batter evenly into 2 1/2-inch muffin-pan cups coated with cooking spray.
Bake at 400° about 20 min or until lightly browned. Serve warm.
Reviews
Most Helpful
Apparently I just shouldn't bake in the morning. Not only did I get the All Bran "Buds" instead of the regular cereal (they don't get mushy no matter HOW long you soak them in the milk), I also neglected to use baking powder. So I have 14 hockey pucks that smell terrific. I'll try this again sometime soon. lol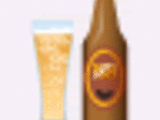 I made this into a loaf so increased the cooking time a little. I added the banana but couldn't really taste it in the final product. I made this for playgroup morning tea, spread with butter & it was enjoyed by both mum's & kids. Best eaten on the day of baking. A great way to use up some stale cereal & quite healthy too, thanks for posting!

These are SO good. The simple addition of bananas and applesauce really helped the texture and flavor of that basic All-Bran recipe. I have used Bob's Red Mill Whole Wheat Pastry Flour in place of the all-purpose flour with great results. Next time, I might cut out some of the sugar too--I think the fruit puree added a lot of sweetness. BTW, I don't think your recipe said where to add the oat bran but I just added it to the flour mixture. I was able to make a dozen regular muffins and 24 mini muffins from one recipe of batter.