COOKGIRl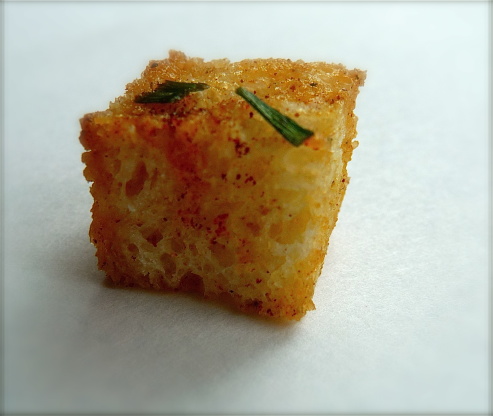 My DD makes these fresh delightfully yummy croutons for soups, salads or just for snacks. Add your favorite bread and spices and change it up. Enjoy.

No chives for me,since they're not available here.Ate them as a snack.I love homemade croutons!
Preheat oven to 350 degrees F.
Slice bread into 1/2" cubes.
In a bowl toss bread cubes with olive oil, salt, pepper and sweet paprika.
Line a flat pan with parchment paper and place coated cubes in a single layer.
Bake for 14-16 minutes, mix up half way through cooking time.
Sprinkle fresh chives on croutons and toss.
Makes about 1 cup's worth.
Enjoy.