Kefta Tajine (Moroccan Spiced Meatballs W/ Eggs in Tomato Sauce)
Um Safia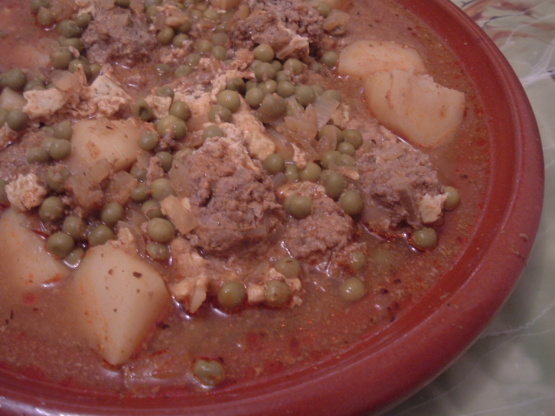 Classic Moroccan Tagine. A tagine is a subtly flavored stew, served over couscous or rice. This one makes a nice dinner served with salad and fresh bread.

Absolutely delicious! I wasn't sure about making something I've never tasted, I just wanted to try something a little bit foriegn to what I usually eat. My husband and I loved it...also just as delicious as left overs! Happy cookin'!
Use your hands to mix the meatball ingredients, and roll mixture into mini meatballs 3/4"-1" in diameter; set aside.
In a skillet or tajine combine sauce ingredients and let mixture simmer, covered, over low heat for 5 minutes.
Add meatballs, squash, and peas to the sauce and simmer, covered, over medium-low heat for 15 minutes.
Pour the eggs in in a stream over everything.
Cover and cook just long enough to cook the egg (about 3 minutes, depending on how well done you like your eggs).
Serve warm over couscous, sprinkled with cumin or black pepper if desired.