Keeneland Bread Pudding With Bourbon Sauce
vaultene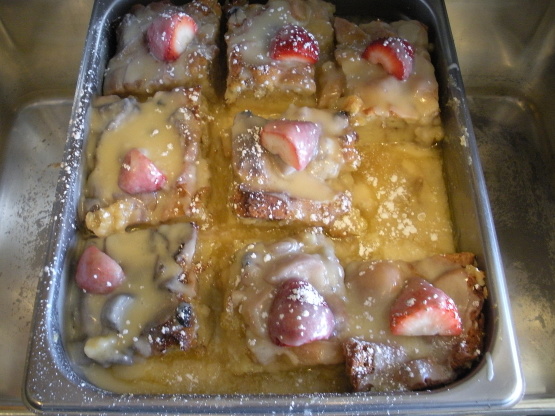 Keeneland in a gorgeous horse racing track in Lexington, KY. This is the wonderful, aromatic bread pudding that the Keeneland cooks prepare each day during the Keeneland meets. On an average they prepare 20-30 gallons per day. Very tasty and easy to prepare. Prep/cook time does not include overnight soaking time.

The sauce for this pudding is very decadent and flavourful- a real treat! I'm not sure if I measured an ingredient inaccurately but there seemed to be not enough liquid in the bread pudding- the top half of the bread was almost dry. I will definitely be making this again and will reserve the stars until then. Thanks very much for a tasty recipe!
Whisk sugar into milk until dissolved. Add eggs and vanilla to taste and stir. Place bread in mixture and let soak several hours or overnight.
Pour into a pyrex dish or stainless pan. Sprinkle with raisins and cinnamon and push them into mixture.
Bake at 250 degrees for an hour to an hour and a half.
To make sauce: Melt butter and add powdered sugar. Whip bourbon into mixture to create a sauce onsistency. Ladle sauce over hot bread pudding and serve.