JustJanS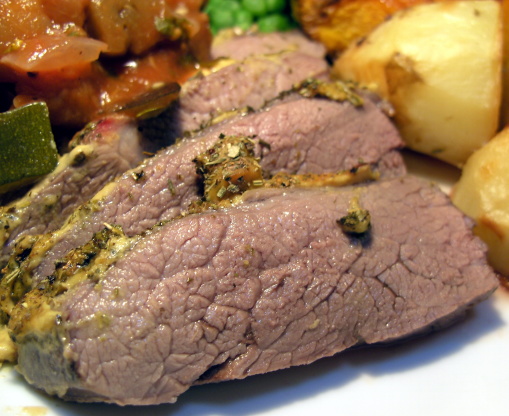 This is my daughter Kerri's recipe, it is a delicious way to cook lamb. I haven't put quantities of vegetables, use however many you think you'll need. I like to bake onions quarters with the other vegies - I keep them together with a toothpick.

This was quite a nice twist on our usual garlic, rosemary lamb thanks Ninna. I used a boned leg of lamb which we cooked for 30 minutes then rested (It was perfectly pink although the photo looks a bit grey). I used dijon mustard and regular mixed herbs. I sprinkled over the first tablespoon and couldn't bring myself to add another (remember, lots would fall off a regular round leg of lamb but stayed put where I sprinkled it on the boned one). We didn't have kumera, but had the pumpkin and potatoes.
Rub with mustard, then lamb herbs or lamb spice.
Bake 3/4 hr at 180degC (350degF).
Add potatoes and spray with olive oil spray, bake 20 minutes.
Add pumpkin and kumera and cook a further 30 minutes.
Last 1/2 to 1 hour put temp up to 215degC (425degF).
It should take about 1 3/4 - 2 hrs to cook, depending on size of leg.
To Vary; jam and lamb herbs (rosemary etc) can be used instead of mustard and spice.