Katzen's Chocolate Peanut Butter Brownies
Katzen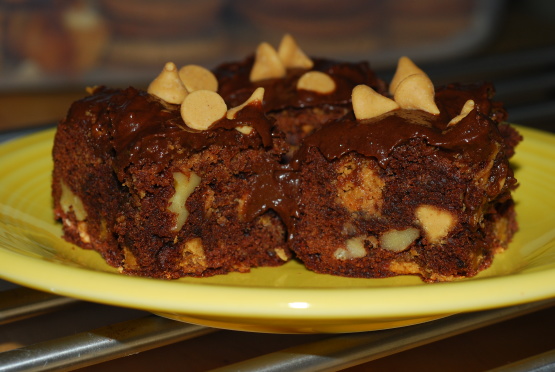 A happy experiment, born some extra peanut butter and peanut butter chips, and a need for an awesome brownie recipe. DH said they were Outstanding - and this from a guy whose high praise usually comes in the form of a grunted, "good".

Totally drool worthy! I used Splenda for the sugar and Adams (natural) peanut butter and skipped any nuts to keep DH happy. They are so rich and wonderful that I can't say that I think there would be a real benefit in adding nuts. Made just a half amount of the icing and just placed a small dollop in the center of each brownie. Perfectly delicious and rather decadent, whats not to love?
Brownies:.
Heat oven to 350 degrees.
Grease 13x9 inch baking pan.
Melt butter in microwave. Stir in sugar and vanilla. Beat in eggs, one at a time.
Add cocoa, flour, baking powder and salt; beat until well blended. Stir in nuts and 1 cup peanut butter chips. Pour batter into pan. Melt peanut butter in microwave, approximately 20 seconds, until soft. Drop by spoonfuls or pour over surface of brownie batter. Run a knife through the peanut butter/brownie batter, to swirl peanut butter through brownie batter. Ensure you pull the knife Bake 30-35 minutes or until brownies begin to pull away from sides.Cool completely.
Frosting:.
Melt butter; stir in cocoa. Add powdered sugar and milk, beating on medium speed to spreading consistency. Add more milk, if needed.
Spread on cooled brownies, sprinkle with 1/2 cup peanut butter chips.