Katy's Gingerbread Cookies
aenglish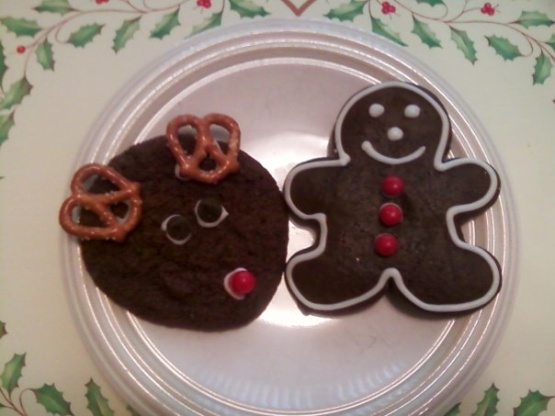 Holiday favorite that family, coworkers, and friends ask for every year.

My daughter has allergies, and I had about given up on trying to make tasty cookies for her. Everything came out with a weird texture. But these are GREAT! I substituted shortening for the butter because of her dairy allergy and used half oatmeal flour. They rolled and cut wonderfully and stayed soft and chewy after baked. The cookies are delicious without icing, but the icing definitely adds sweetness, which my daughter loves. I enjoy these myself! Thanks!
Preheat over to 350*.
Blend together butter and sugar until fluffy.
In a separate small bowl combine molasses and 5 tbls. water with a fork.
Stir molasses mixture into butter mixture.
Sift together remaining dry ingredients.
Sift again, and then stir into the butter mixture, 1/2 a cup at a time, until blended.
Wrap dough in waxed paper and refrigerate for several hours.
You can also freeze the dough at this point for several weeks.
When ready to bake - take dough out of fridge a part at a time.
Grease cookie sheets.
Roll out on lightly floured surface until thin, roughly 1/8 of an inch thick.
Cut dough with floured cookie cutters.
Bake about 8 minutes. Cookies should be just slightly browned on the bottom.
Let cool on rack.
For icing: Combine confectioners sugar, a few drops of water and a few drops of food coloring.
Prep time is to make dough, cook time is the actual rolling and baking. Cookie yield is a guess as it depends on how big your gingerbread man cutter is!