Kat's Quiche (Basic Recipe)
Juenessa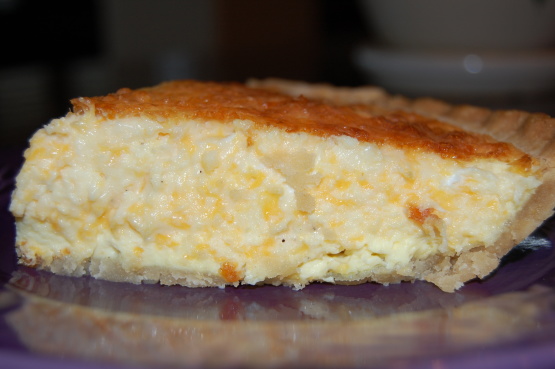 My sis is selling this at her restaurant for $4-$5 a slice. (Hope she is not reading.) 4 ingredients...what a cheap, fast, and easy treat or brunch dish. Hope you enjoy.
5

eggs

2

cups shredded cheese (sharp chedder is the best, or can use a mixture)
1⁄2 pint whipping cream

1

frozen pie shell (do NOT thaw)
Preheat oven to 350 degrees.
Sprinkle a small amount of cheese in the shell.
Beat eggs then add in the whipping cream.
Mix until incorporated.
Add remaining cheese and stir lightly.
Pour in frozen pie shell.
Bake 40-50 minutes until set.
Note: you can add just about any filling and it turns out just great.
Just be sure to lightly saute any fresh vegetables before adding.
Sprinkle filling into pie shell before adding eggs mixture.
Redistribute filling gently with rubber spatula.