Kato's Tender Roast Venison
Annacia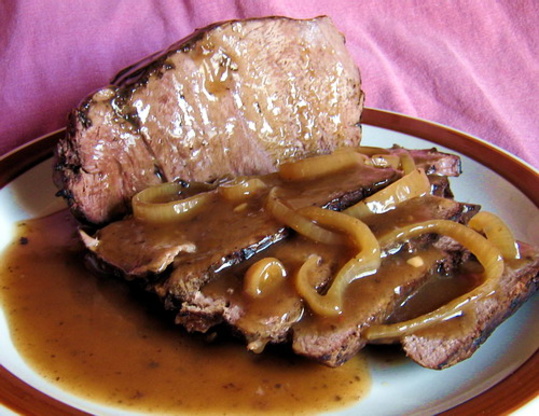 One of those dishes that tastes as good as it smells. Cook roast 20 minutes per pound for medium rare, remember to baste often during roasting to ensure a tender roast.

I made this with a 4 pound shoulder roast, bone in. It cooked about 45 mins extra for the bone. As others did, I used cranberry juice instead of berries for much the same reasons, the kids would cringe. Hey, they're eating venison so I can't complain too much! My only draw back on this is the high salt content. The beef consomme had a ton, and no low sodium option at the stop & shop. But all in all a delicious roast. Will make again.
Preheat oven to 500 degrees Trim fat from roast,wipe down with damp cloth.
Put venison in roasting pan and sear in 500 degree oven for 5- 10 minutes.
Reduce heat to 425 degrees.
Arrange bacon slices over roast.
Roast uncovered in 425 degree oven for 30- 40 minutes.
Remove bacon.
Combine all remaining incredients and pour over roast.
Remember to baste frequently during roasting.
Cover loosely with foil and cook 1 hour longer.