twissis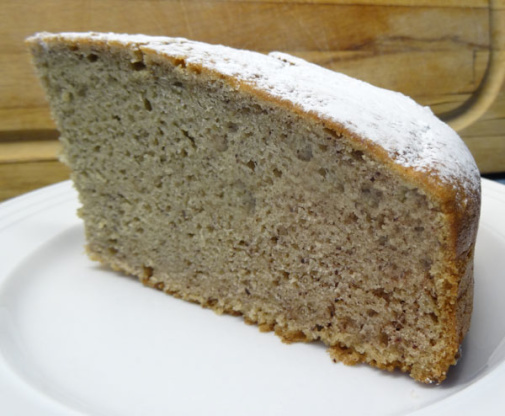 This is how I use those leftover black bananas. Sometimes I use the little tiny bananas because they have such an intense flavour. When I'm busy I freeze the bananas just for this cake. This recipe makes great cupcakes that freeze well. I've been making this recipe for 12 years, I hope that you enjoy it as much as we do...

excellent! easy recipe, just the right sweetness, the kids inhaled it :)
used Self Raising Flour, so left out the salt and raising agents. made 12 large cupcakes, and a small tray, this will be THE recipe from now on :)
made for Aussie swap March 1012
Preheat oven to 350 degrees.
Cream the butter, add sugar and eggs.
Mix well, add the bananas, nuts and vanilla.
Prepare the sour milk by stirring the lemon juice into the milk.
Sift the dry ingredients and add them to the banana mixture.
Mix in the sour milk gently.
Pour into a prepared 9 x 12" pan.
Bake at 350 degrees for 45 min - 1 hour (until firm in the center).
*We find this cake sweet, so I usually just sprinkle icing sugar on top and serve it warm with vanilla bean ice cream.
It's also nice with vanilla or chocolate buttercream frosting.
If making cupcakes, bake for 15 - 20 minutes, or until toothpick comes out clean.