Katie Couric's Lemon Bars
twissis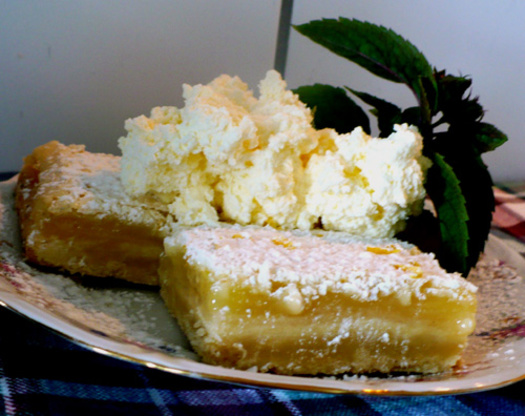 I tore this recipe out of People magazine in the May 14, 2012 edition. Katie Couric says this recipe is a tradition and the perfect treat for Mother's Day. They are a little cakey on the bottom and then gooey like a delicious lemon pie and tart like lemon drop candies. I used cake flour and got great results. You can use all purpose flour as well. Delicious!
Preheat oven to 350 degrees Fahrenheit.
Lightly grease a 13"x9" baking pan; set aside.
In a food processor, blend confectioners' sugar, 2 cups flour and salt.
Add butter and pulse until the mixture is crumbly.
Press into baking pan and bake for 20 minutes.
Remove from oven.
Meanwhile beat the eggs, 2 cups sugar, 6 teaspoons flour and lemon juice until well combined.
Stir in lemon rind.
Pour this mixture on top of baked mixture; bake an additional 25 minutes.
Cool completely and sprinkle with sifted confectioners' (powdered) sugar.
Cut into squares.