Kathy's Scalloped Potatoes With Ham
Annacia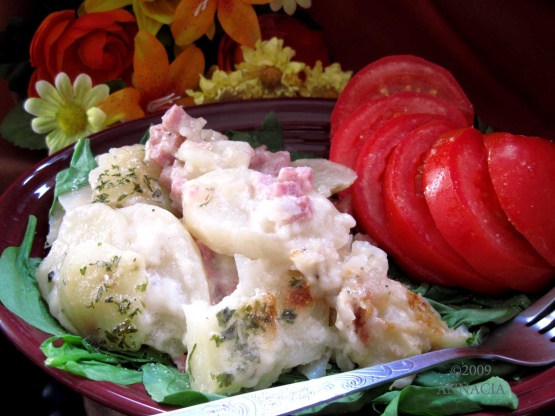 Here is another use for leftover ham and the other ingredients I always have on hand. I like this recipe because it has a hint of thyme in it. There are also directions here in the description if you wish to freeze it. If you want to bake it at 325 degrees instead of at 375 degrees notice my directions (you know how sometimes you want a certain oven temperature to orchestrate your menu-lol). If you want to freeze this start the recipe differently by cutting the potatoes in half and then parboiling them for 10 minutes. Drain, cover with cold water and allow potatoes to cool. Slice potatoes and assemble recipe as directed. Don't bake yet if freezing. Cover well with plastic wrap and foil. Label and freeze. Defrost in refrigerate, remove foil and plastic wrap, recover with the foil and then bake. Thank you Chef #128693 for helping me:)

Top Review by Kzim4
I modified this for the freezer, and my kids really enjoyed this side dish. It is a good thing to have in the freezer (especially for me, who is side-dish challenged). I think that I didn't cook the sauce long enough, though, as it wasn't very thick, but that was my fault, as I've never made scalloped potatoes from scratch before, and thought it would thicken more upon baking. To prepare this for the freezer, I cut 6 or 7 potatoes in half (skin on), covered with water in a large pot, and brought it to a boil I let it boil for 10 minutes, and then drained off the hot water. I left the potatoes in the pot and covered with cold water; then I placed them in the fridge until cool. I then sliced the potatoes and assembled as directed, adding a layer of cheese in the middle and on top. I covered, labeled, and then froze. To heat, thaw overnight in the fridge. Place the dish in the oven and turn it on to 375. Bake for 45 minutes, covered, or until heated through. Thanks for posting. I've been looking for a scalloped potato recipe to try for a while.
Preheat oven to 375 degrees.
In a saucepan, melt butter.
Stir in flour, parsley, salt, thyme, and pepper.
Gradually add all of the milk (3C+2T); bring to a boil.
Cook and stir for 2 minutes; set pan aside.
Combine in a large bowl the potatoes, ham, and onion; place half in a greased 2 1/2 quart baking dish.
Top with half of the sauce; put in rest of potato mixture; and then put in last half of the sauce.
Cover and bake at 375 degrees for 65 to 75 minutes or until potatoes are almost tender.
Bake uncovered, 15-20 minutes longer, or until potatoes are fully cooked.
If you need to have an oven at 325 degrees b/c of the rest of the meal, cook 2 hours covered and then 15 minutes uncovered.