3 Reviews
I had a friend make this while I was staying with her for a few days as she knows I am allergic to White Potatoes. (Strange, I know!) This was absolutely delicious!! All at the meal were in love with it! I would have never thought of squash and turnips in beef stew. Wonderful. So glad I can have Beef Stew again!
If you were substituting the barley for the potatoes to cut carbs, you probably actually INCREASED the carbs. One small potato only has about 15 grams of carbs. 1/4 cup of dry pearl barley (about 1 cup cooked, small potato) has about 35 grams of carbs. Not saying this is a bad recipe though. I decided to check only because I was recently diagnosed as being diabetic and am now watching carbs.

This was a nice change of piece from typical beef stew with a wonderful assortment of fresh vegetables. The barley was also a nice addition. This was definitely lighter on the beef-to-vegetable ratio. I did not precook the beef but just added it to the crock pot with the rest of the ingredients. The only problem that I had with this recipe is that 8 hours on high is way too long and everything overcooked. Food was stuck to the side of the crock pot and the vegetables were too mushy. I think this should cook on LOW for 8 hours and would be just perfect. Made for Fall PAC 2012.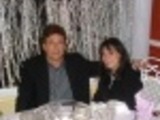 Kathy's No Potato Beef Stew