Kathy's Ham and Bean Soup
diner524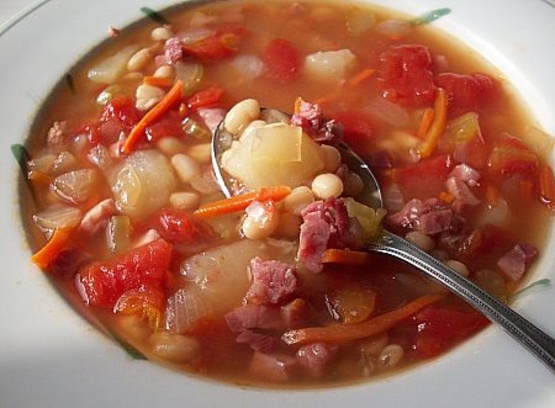 This is the highlight of my 'after' Easter cooking....that ham bone that is in the fridge after most of the ham is eaten. I just can't get myself to throw it out without making a pot of this soup!! I use canned beans in place of the dry, it just makes making the soup so much easier and the beans are always cooked just right. Be careful when adding salt, if the ham was salty the soup may not need any. Hope you like my recipe!!
Delicious bean soup, chock full of vegetables and so flavorful, plus much easier using the canned beans!!! I made this as written with exception of the barley, as I didn't have any on hand. This recipe was the closest one for the ingredients I had on hand and for our preferences. I had to use a ham hock and then some already pre-diced package of ham and use canned tomatoes rather than fresh. Thanks for sharing Kathy. Made for the Belly Warmers Event in Photo Forum.
Add all ingredients but the beans to a kettle, cover with water and the broth. Cook on medium heat for 1 1/2 to 2 hours or until the barley and vegetables are tender. Remove the ham bone and cut any remaining meat from the bone and return the meat to the soup. Now you can discard the bone! Add the canned beans and the liquid in the cans to the soup and heat through. Enjoy with some crusty bread rolls and a glass of your favorite vino!