Lainey39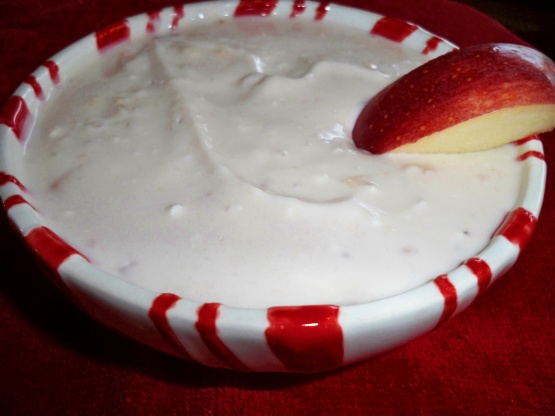 Serve with a platter of fresh fruit such as bananas, strawberries, orange or grapefruit sections, sliced peaches, watermelon balls, seedless grapes, and cantaloupe or honeydew wedges. Or try a dollop of it on Kathy's Fruit Salad. Both are from the recipe collection of Bird's sister Kathy.

You've got A GREAT DIP here, for sure! True, the flavor of the ginger didn't come through much, but I was intrigued with the citrus flavors! AND, although I used vanilla yogurt this time around, another time I'd like to try it with a lemon yogurt & stick with the cirtus flavor even more! Thanks for a great recipe! [Tagged, made & reviewed in Please Review My Recipe]
In a medium bowl, using an electric mixer, beat cream cheese until fluffy.
Beat in the marmalade, lemon peel, and ginger.
Stir in the yogurt and mix well.
Place dip in a serving bowl, cover and chill 1 hour. Serve with a platter of fresh fruit.
Another great way to serve this is to take some pears, slice them in half, hollow out the core, and fill with this dip (like deviled eggs) for a company worthy, elegant looking dessert.