CabinKat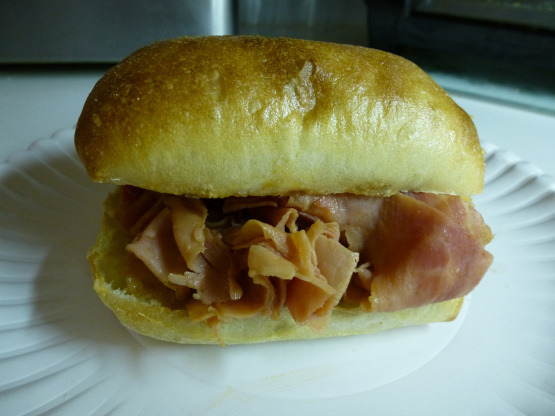 This recipe has been a favorite of our family for years. My children ask for it every holiday as a Christmas Eve or New Year's Eve after-supper snack. I like to slow cook this in a crock pot for about an hour or two. You can heat it on the stove to save time. This is best served on plain hamburger buns, but you can enjoy it on your favorite rolls if preferred. It is a messy sandwich, which is similar to a NC-Style BBQ, not thick so the sauce absorbs into the bun. The kids love it this way, so Enjoy!

This was nice but next time I will check the packaging on the ham closer for the sodium levels as this seemed overly salty to me. It was also very juicy, even though I left out the water completely. I did this on the stovetop and I think next time I would cook the sauce down some to thicken before adding the ham to it. I bought some of those thin sandwich buns to eat this on but it was so juicy it soaked right through the bun in the time it took me to take a picture (just a couple minutes). Definitely need a more substantial roll or bun for this filling. Except for the saltiness, the flavor was nice, so with just a couple minor changes I think this would be great! Thanks for sharing!
Mix all the ingredients together except ham.
Whisk so that it's evenly blended.
Chop up ham a bit so that it's easy to serve on roll or bun.
Pour mixture over ham and mix well.
Cook in crockpot on low for an hour or two or put in saucepan on stove, cook med-low for about 20 minutes.
Or until heated through.
Serve warm on hamburger buns.