Kathrine's Chocolate Chip Special
marisk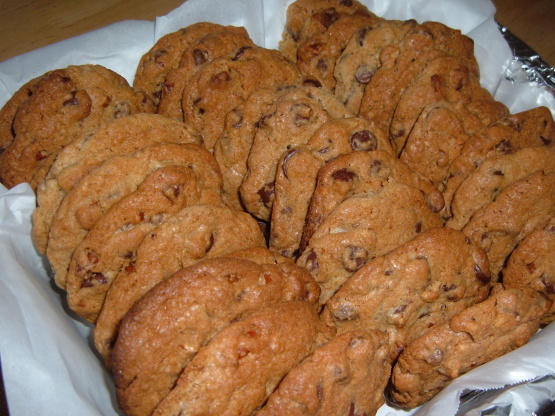 This is one of the best cookies I've ever tasted! It is very hard to eat only one!
Preheat oven to 350 degrees. Line baking sheet with parchment paper.
Combine ground oats, flour, baking soda, salt and cinnamon in a bowl. Set aside.
In another bowl, cream butter, sugars, vanilla and lemon juice with electric mixer. Add eggs and beat until fluffy.
Stir flour mixture into creamed mixture, blending well. Add chocolate chips and nuts and mix well. Using 1/4 cup of dough for each cookie (I use an ice cream scoop), shape into round ball and place 2-1/2 inches apart on prepared baking sheet. [The amount of cookies you get will depend on how large you make them.].
Bake until cookies are lightly browned, 16-18 minutes. Transfer to a wire rack and cool completely. Store in sealed container to keep soft and chewy.