Kasha With Browned Onions and Walnuts
karen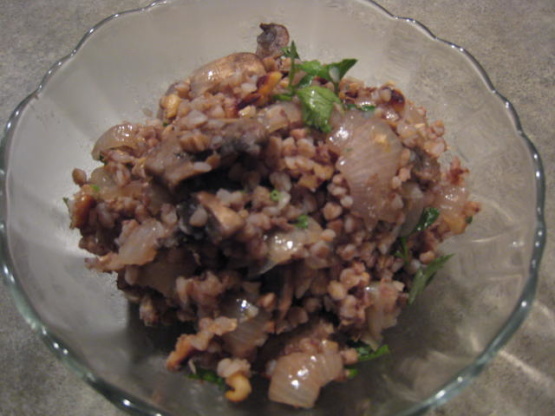 Yummy!. Prep time is just time to chop the onion.

Top Review by karen
I grew up eating kasha with onions & pasta shells, but this was a nice change. I really liked the flavor of the fresh thyme and walnuts. Like Mirj, I mixed the dry kasha with a raw egg and before step one, then toasted the kasha in a nonstick skillet before transferring it to a pot. I also add a couple of cups of sliced mushrooms in with the onions. This made a hearty vegetarian main dish, and would also be a wonderful side with meat.
Cook kasha in a dry 3 1/2- to 4-quart heavy saucepan over moderate heat, stirring constantly, until grains smell toasty and begin to separate, about 2 minutes.
Add boiling-hot water, 1/2 teaspoon salt, and 1/4 teaspoon pepper and simmer, covered, over low heat until kasha is barely tender and most of water is absorbed, about 12 minutes.
Remove from heat and let stand, covered, 10 minutes.
While kasha cooks, toast walnuts in 1 tablespoon butter in a 12-inch heavy skillet over moderate heat, stirring frequently, 5 minutes.
Transfer nuts to a plate.
Add oil and remaining 1/2 tablespoon butter to skillet and heat over moderate heat until foam subsides.
Add onion and thyme and cook, stirring occasionally, until softened and browned, about 15 minutes.
Stir kasha into onion along with walnuts, parsley, and remaining 1/4 teaspoon salt and 1/4 teaspoon pepper.