Karpathian Cucumber Boats
2Bleu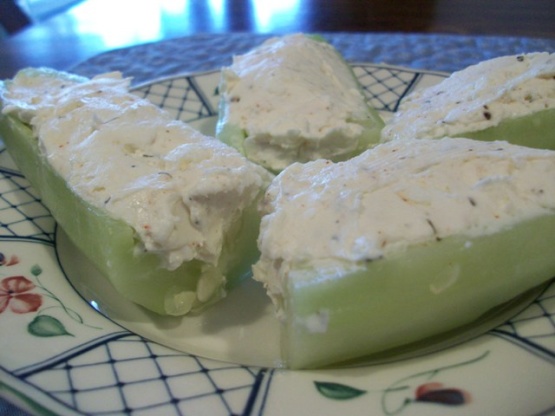 This spread is so simple to make but it does need to be refrigerated at least 8 hours to allow the flavors to meld. It also may be frozen in an air- tight container for up to 1 month. Thaw in refrigerator at least 24 hours afterwards and stir before serving. Karpathos is a Greek Isle.
Process all ingredients except cucumbers in a food processor until smooth, stopping to scrape down sides. Cover and chill at least 8 hours.
Peel cucumbers using a potato peeler leaving thin strips of the skin so it's striped. Cut them in half lengthwise.
Scoop out seeds using a teaspoon. Fill cucumber boats with cheese spread.