Karotten in Bier Gedunstet (Carrots in Beer)
Directions
Peel and slice carrots into long, thin slices.
Melt butter in medium-size frypan; add beer and carrots.
Cook slowly until tender, stirring frequently.
Stir in salt and sugar.
Cook for another 2 minutes and serve hot.
Reviews
Most Helpful
My partner and I both thoroughly enjoyed these carrots!! I used a small bag of the baby carrots for ease. As others said, the choice of beer is important. I used a Sam Adams Black Lager, which is a mild dark lager. I also added one tablespoon of chicken base and 1 teaspoon dry thyme. I simmered, covered, until tender; then, removed the lid to allow most of the beer to evaporate to concentrate all the flavors. Low in calories, high in taste and nutrition! Thanks for sharing!

I think it's best that you use a brand of beer that you know you'll like. I used one I hadn't tried before (Guinness) and it was too bitter. On the other hand, the recipe was easy to make, low-fat and healthful so use a beer you like and I think it may work out for you.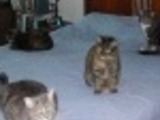 This gives the carrots a very mellow flavor, I used a brown ale and will make this recipe again