Karissa's Soft and Yummy Peanut Butter Cookies
Bayhill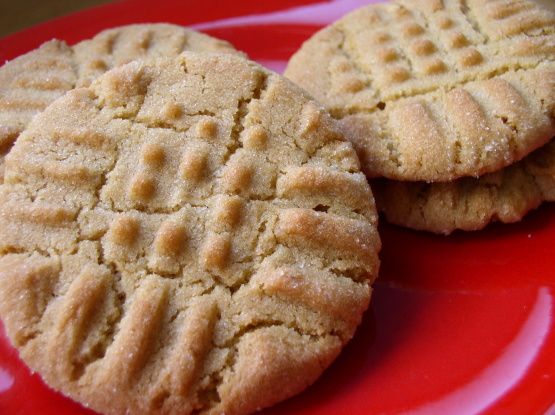 I think the name says it all. I haven't made these in awhile, so the yield is a total guestimate. They make fabulous peanut butter blossoms, but sometimes I'm just in the mood for a good plain peanut butter cookie! I really think you'll like 'em!

I ended up adding wayyy more peanut butter, a little of both sugars and vinila to get it to taste not like cardboard. They were soft and im currently trying a single cookie in the oven until i get the batter right. not going to lie i might just eat the batter cause that is Y U M M Y
Preheat oven to 350.
Sift together the flour, soda and salt; set aside.
Cream butter, peanut butter, sugar and vanilla. Add egg and brown sugar. Slowly incorporate flour mixture (batter will be stiff).
Shape teaspoonfuls of dough into balls and roll in sugar. Place on cookie sheet and press down lightly on each cookie with a fork in criss-cross pattern. Bake for about 8 - 10 minutes.
To make peanut butter blossoms, don't make pattern on cookie with fork before baking. Simply place on cookie sheet and bake about 8 minutes. Remove from oven and gently press a chocolate kiss onto the top of each cookie until the cookie cracks slightly. Return to the oven for a couple of minutes.