Karen..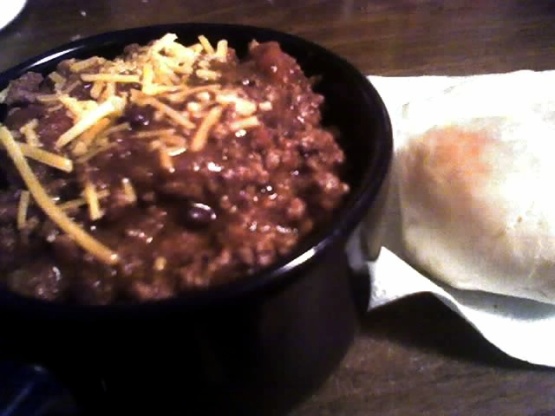 This was a friend's recipe that I modified so much I now call it my own. It is great on chilly days, but we have it in the summer also. You can make it as hot as you like, but with 4 kids, I have to keep it on the mild side. With a nice warm loaf of home baked bread, it is a hearty meal.

Top Review by Laudee
Ya got a great little chili dish here, Karen! I used ground beef, great northern's, kidney's, and a few left-over chili beans. Made a tasty concoction!! Nice and easy to put together, then, let simmer till ready. We sure enjoyed. Thanks for sharing... Laudee
Brown meat over medium heat in a large pot or dutch oven and drain grease.
Add Onion and Garlic and when transparent, add Chili Powder.
Cook about 5 minutes and then add remaining ingredients.
Simmer, uncovered for about 2 hours, stirring occasionally, until desired consistency.
Serve with cheese, onions and sour cream for toppings if desired.